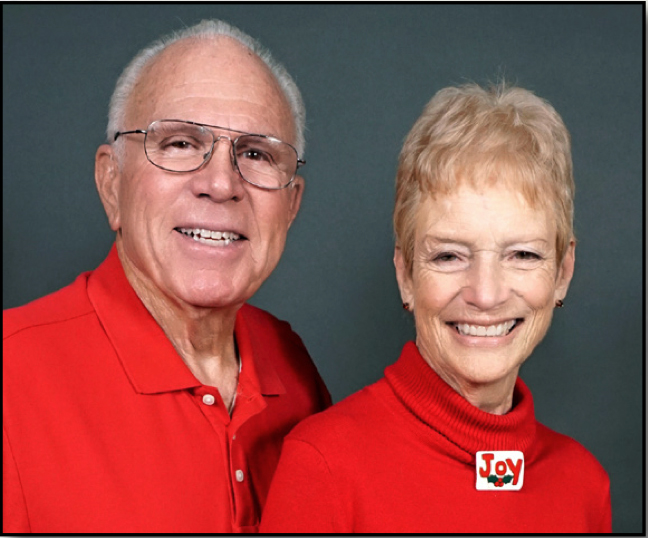 Sacred Servers of the Year, Jackie & Russ Boehmke
by Kathy Davis, Sacred Server Coordinator
Joyous New Year - Wishes to One and All!
I'd like to start 2022 with great gratitude for ALL who make up our church family, past and present. Unique yet like-minded, as soul sisters and brothers in Spirit, our faith community continues due to your time, talent, treasure and prayers.
I want to acknowledge specifically two people whose generosity of time, talent, treasure and prayer support have made a remarkable difference for us all for decades now. Those two special people are Russ and Jackie Boehmke.
Beyond their warm and welcoming presence in our services, whether as attendees or choir members, and their consistent financial support, most recently the "gift" of our new raised platform and enclosure for our audio/ visual area in the rear of the sanctuary is from them. Russ designed, purchased and donated all materials, transporting and building on site or in his home shop, with Jackie helping in whatever way she could. This new area provides elevated, clear and stable space for filming services as well as securing equipment.
Russ' carpentry skills, work integrity and willing heart and hands have, over the decades, enriched our spiritual experience tremendously. He designed and built the portable flooring and stair sections of our sanctuary's altar area, allowing us to extend its space in various ways as needed. It was Russ who built and provided the lovely shelving and woodwork in our library
when it was relocated downstairs to allow for easier access by all.
Beyond the physical and mental work of planning and building to meet our physical plant needs over the years, except for the period of time they lived in Julian, Russ & Jackie have faithfully sung in our choir for decades, been active in groups from social to strategic planning, and volunteered for every event when needed if they are in town. Joy radiates from Jackie, whether she's singing or cleaning up in the kitchen with our Memorial Ministry team.
What a gift they are to our church and to everyone blessed to share life's path with them.
Thank You, Russ & Jackie Boehmke, our Volunteers of the Year for 2021! We love you, we bless you, and we certainly behold the Christ in each of you.
Kathy Davis, Sacred Server Coordinator
 
As we grow in spiritual awareness and understanding, we open ourselves,
to new possibilites for sacred service.
Contents
Compassionate Community Service